Creating Take-off Templates when Integrated with simPRO
08 Nov 2020

5 Minutes to read
Creating Take-off Templates when Integrated with simPRO
Updated on 08 Nov 2020

5 Minutes to read
---
Before reading this article, please make sure you are familiar with what Take-Off Templates are and how to create them in Groundplan.
Creating Take-off Templates linked to simPRO Catalogue items and Pre-builds
There are three ways to create Take-off templates, but all of these options require you to manually link your simPRO Catalogue items or Pre-builds with the measurements you've listed under each take-off templates.
1. Create a new Take-Off Template from scratch
You can find the steps of manually setting up a Take-Off template and building up the measurements in it on this guide.
2. Import a Take-Off template
Importing a file into your take-off template will save you from manually entering the list of parts that you need in your template.
However, Groundplan creates a one-off item in each measurement as a default part. These imported measurement parts are not automatically linked to any simPRO Catalogue item or Pre-build, even if you have listed the part numbers of the items in the CSV file that you uploaded.
Please note that if your associated parts are added as one-off items instead of simPRO-linked items, Groundplan will send their quantities to simPRO as one-off items as well.
One-off items do not give the same visability as catalogue items and Pre-builds do when ordering materials and managing stock in simPRO.
3. Copying an existing Stage into a Take-Off Template
Among these three options, this will be the best time-saver IF the stage that you will copy has the measurements already linked to the simPRO Catalogue item or Pre-builds after you've set it up for a Project.
However, if the linking of the items was not yet done, you can still copy the stage as a new take-off template and proceed with manually linking the measurements to your Catalogue items or Pre-builds in simPRO.
📝 Please note:
If you have changed parts or labour to a different Cost Center than the Project default, these Cost Centers will be remembered when creating a Take-off Template in this method.
Linking measurements to simPRO Catalogue items or Pre-builds
Go to the Take-off templates page;
Click on the Template name or click the options button and select the Edit option;
Click onto the Measurement name or click the options button and select the Parts option;
Along the part line, click the options button then select the Delete option;
Click the green +Part button;
Click to select Catalogue item or Pre-build;
Select the Category and Sub-group (optional);
Enter at least three characters of the item name;
Click the correct item from the list shown;
Click the Save button;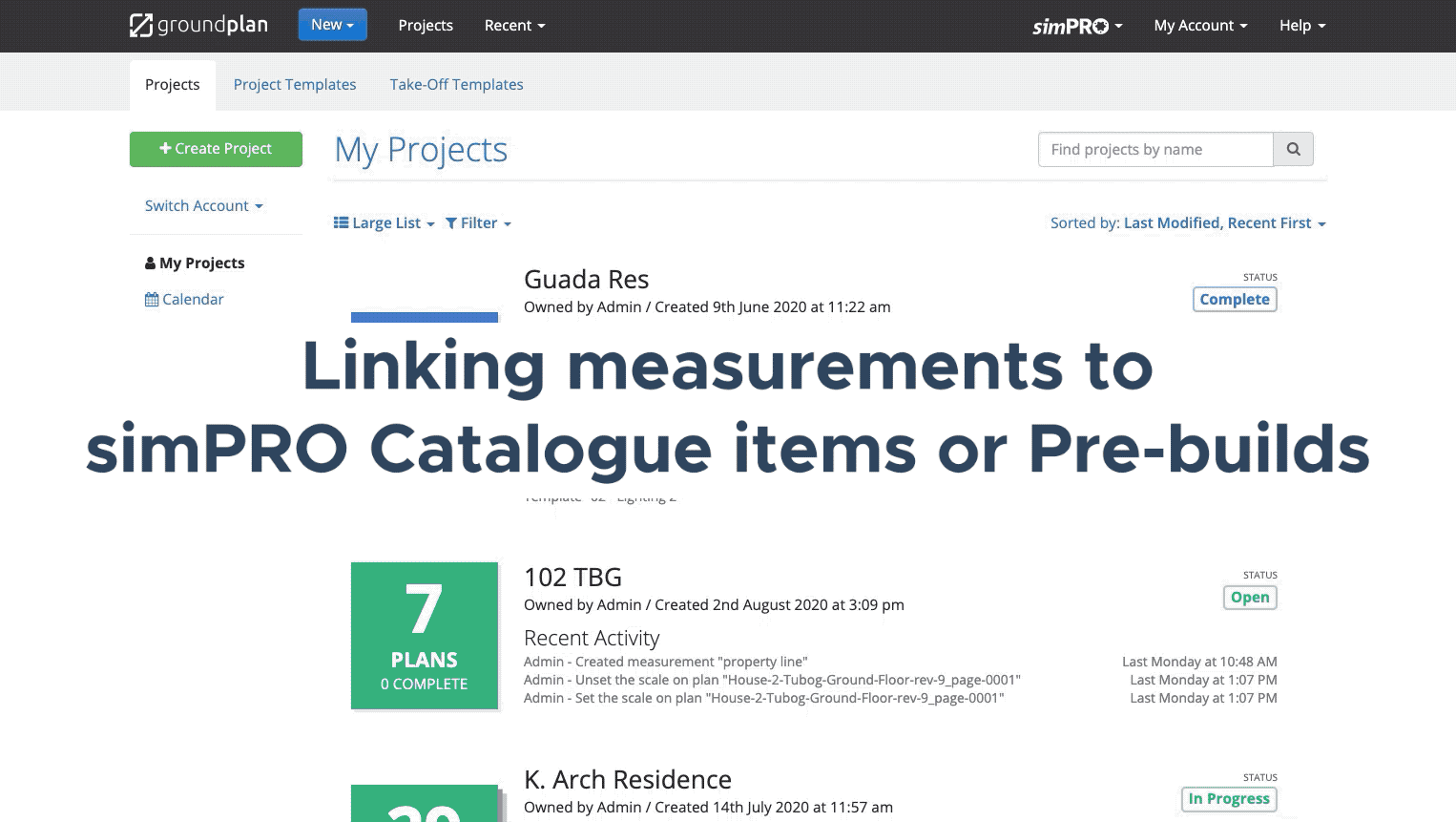 Pre-builds or catalogue items associated to multiple measurements within the same stage will group as one line item/s with a total from all measurements when being pushed to simPRO.
Assigning Cost Centers to Parts and Labour
The part and labour lines in your take-off templates are set to pick up the default cost center on each project. However, you can set specific cost centers for each of them in your take-off templates, and these will override the default cost center on the project where you will apply it.
To set specific cost centers on parts and labour lines:
Open the take-off template;
Click onto the simPRO tab;
If you are using a multi-company set up, click to select the correct multi-company build from which you want to pick cost centers from;
Select the items you wish to assign a cost center to;
Click on the Set Cost Center to button;
Select the Cost Center.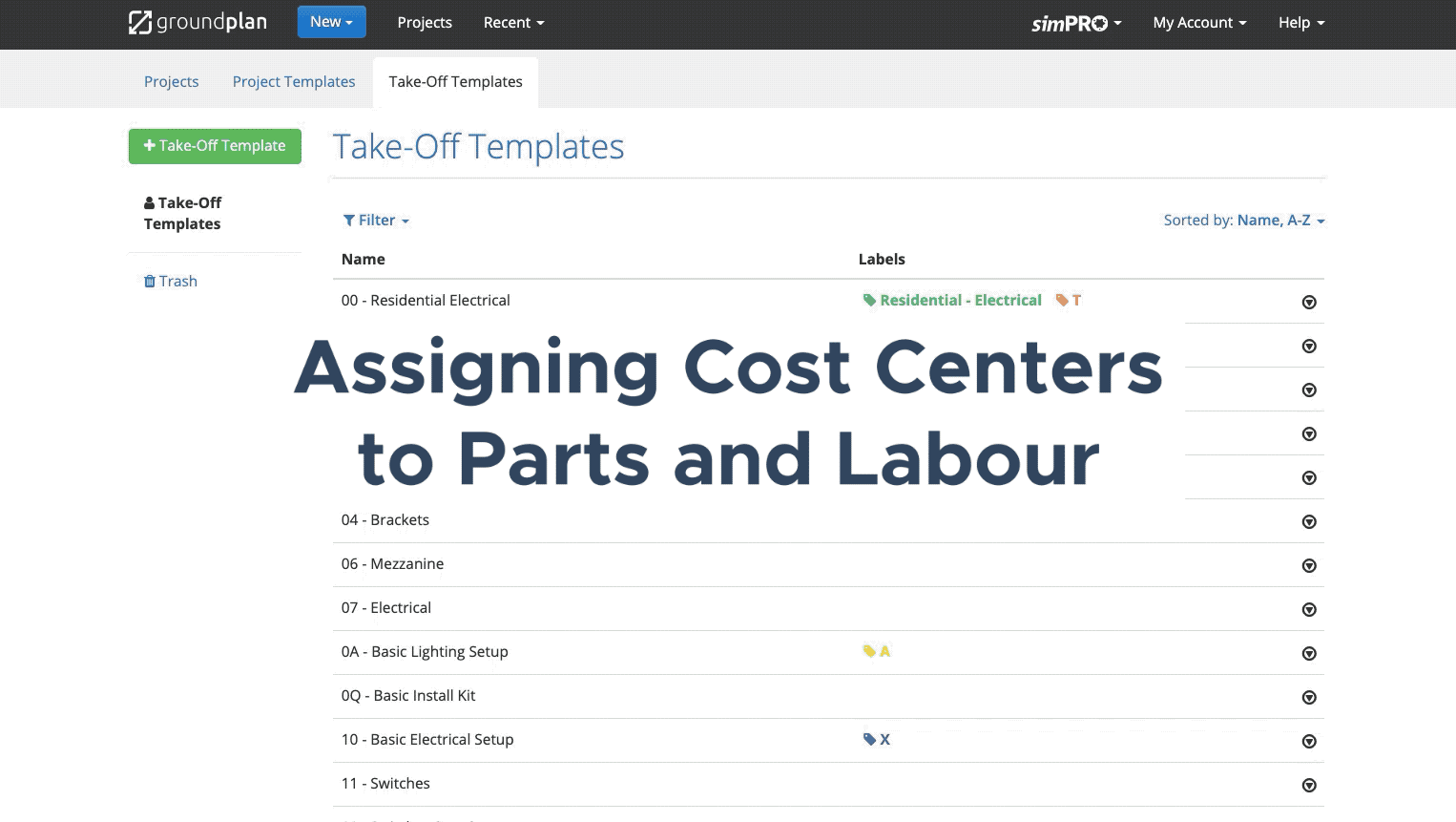 📝Please note:
If the cost center is set to "None", the part or labour line will be assigned to the Default Project Cost Center once the template is applied to a project;
When creating take-off templates from a project stage, any parts assigned with cost centers will bring their assigned cost center into the template; If the parts are assigned with the project's default cost center, the parts will be saved with no assigned cost centre, and this will appear as "None".
Applying Multiple Take-off templates to a stage
When applying Takeoff Templates to projects, the project will pick up the Cost center from the first Take off applied to the stage.
If you need to have Multiple Cost Centers, for the same part or labour that would be on same stage, we recommend creating new catalouge items / pre-builds in simPRO with different part numbers so these can all be assigen to their own Cost Center within projects.
Take-off templates and simPRO Multi-company
If your simPRO is a Multi-company, please see our Multi-company article for additional Take-off template information.
FAQs
Q: Do I have to update the simPRO Catalogue item or prebuild that I linked on a measurement in my Groundplan take-off template if they are updated in simPRO?
A: The prebuilds you used in Goundplan connect in simPRO with a "Prebuild ID". So if you are going to use the same Prebuild, and is just going to update it and not replace it altogether, then you don't have to change the prebuild in your take-off templates.
However, if you replace the prebuild in simPRO, say you created a new Prebuild of the same name and archived/deleted the first one (which is the one connected in Groundplan), then you'll have to replace the prebuild you used in your take-off template, as this new prebuild will have a different Prebuild ID.
Q: Can I update the cost centres assigned in my parts before sending to simPRO?
A: Yes. Cost centres assigned to parts inside the take off template can be changed on the simPRO tab in a project before you push a quote into simPRO.
Q: If I edit or rename the measurement in Groundplan will it automatically update my part in simPRO?
A: Renaming measurements will not send the updated name to simPRO. These names will only appear in Groundplan on the stage, take-off template, on the legend and in the Worksheet tab, etc.
Q: Are the "additional parts" that I will add to the measurement be listed as a Pre-build in simPRO?
A: If you created additonal parts & labour into measurements, these additional items are sent through to simPRO as individual line items, and not as a Pre-build (the same as adding a take-off template to a cost center within simPRO).
For Setup and Workflow Assistance
Book a FREE training session with one of our trainers to go through the best solutions based on your simPRO workflow.
---
Was this article helpful?
---