Downloading / Exporting your Plans
Updated On 24 Jun 2020

3 Minutes To Read
---
You can export your plans, complete with measurements and markups, to a PDF file in a few clicks.
There are multiple ways to download / export your plans from within your Project:
From the Project tab, clicking the Download plans button;
From the Plans tab, by clicking the Download plans button;
From inside a plan by clicking the Save PDF button.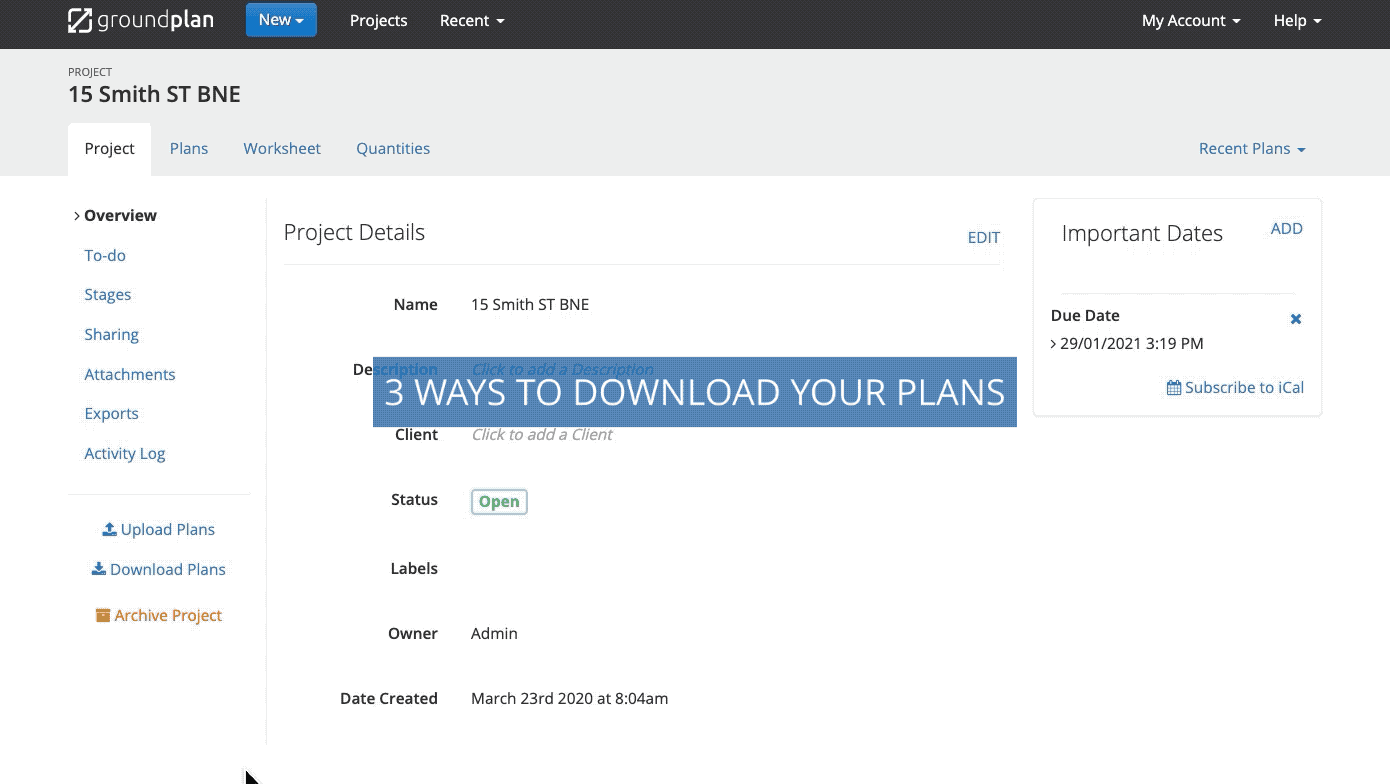 Exporting Options
Choose how you want to download your plan/s.
Plans:
You have the flexibility to choose the plans you want to download.
Per Group - You can select / deselect all plans in a group such as "Plans" or "First floor" using the check the box next to the group name.
Individually - You can select/ deselect individual plans within a group using the box to the left of the plan name.
You can export your files as a combination of a group and selected plans from another group
During export, you can select the group name that you want to export as a whole, and you can individually check on the plans from the other group as well. How they will show up in your computer will depend on the PDF file compilation that you will select: If you select to have one pdf per plan, then you will have one folder for each group containing the individual plans; otherwise, if you select per group, then you just get one folder for all the plans, which are compiled as one PDF file per group.
Stages
You have the flexibility to choose what stages you want to download on the selected plans.
Include all stages - will include all stages and measurements you've added to your plan on the PDF export and legend.
Only include selected stages - will let you choose which stages you want to include in your PDF export and legend.
File Compilation
Create one PDF per plan (better for digital use) - This will create a folder containing the plan PDF and legend PDF for each plan selected.


Create one PDF per group (better for printing) - This will create a folder per group, where groups have multiple plans selected, these will have one page per plan in the PDF and one page per legend per group selected.

Once you are happy with your plan and PDF selections, click the Generate Export button.
📝Note:
Your file is going to be downloaded to a compressed "zip" format by default, but you can change this by unchecking the Always automatically download exports (as .zip) checkbox.
Troubleshooting
Download does not start in a reasonable time
If this happens, click the "click here to download" link (highlighted in the image below)
Nothing's downloaded when you click the download link.
Your browser may be blocking the download. Look for that small download button the right-most side of your address bar. Click it and click the radio button to allow Groundplan to download multiple files and click done.

Downloads are taking a longer than usual.
Groundplan, the exports are not supposed to always run instantly, we have a queuing system to prevent the server from being overloaded. Most of the time, the export runs straight way because the queue is free, but this will depend on how large the project is and how many Groundplan users are exporting plans at the same time.
In these cases, you can click the Email when ready button and the export will be emailed to you when it's ready.

FAQs
How to download the plans without automatically exporting a zipped file?
By default, when plans are exported, a separate page for the legend is included in the zip file, to download plans without a legend:
Uncheck the "Always download exports (as zip) when ready" option;
Click the download button next to the plans you wish to download;
Click the Close button when you have finished selecting plans to download.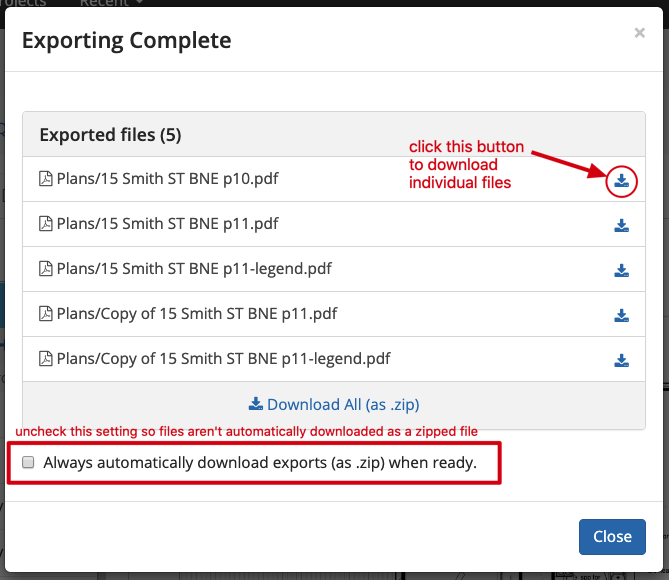 Was This Article Helpful?
---