Plan Compare
11 May 2023

1 Minute to read
Plan Compare
Updated on 11 May 2023

1 Minute to read
---
This article explains Plan Compare, Aligning Plans and covers frequently asked questions.
Plan Compare allows a User to easily see differences between another Plan in the Project or a Revised Plan. While Comparing Plans, you can count, measure, annotate and select items as usual.
Compare Plans
Press ESC
Click Compare

Click to select Action Compare with a previous revision OR Compare with another plan
Click to select Plan
Click Compare Plans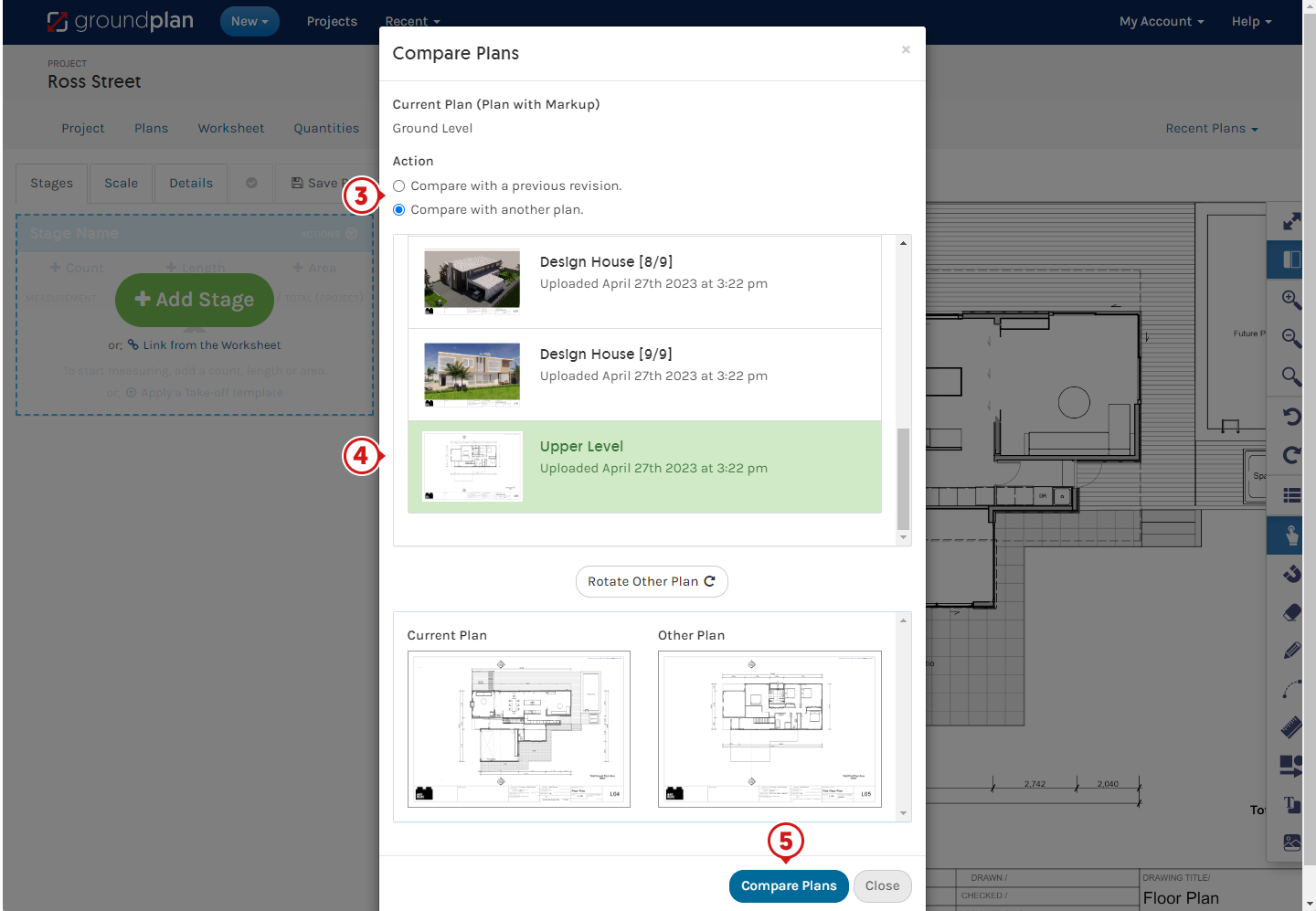 Interpreting the Plan Comparison
Colour is used to determine identical elements and differences in Plans.
Colour
Explanation
Black
Identical lines/elements on both Plans
Red
The Plan being Compared

Blue
The Current Plan
If Measurements or Annotations are placed during the Compare function, they will appear on this Plan when the Compare is cancelled.

Aligning Plans
Adjust Plans when they are not Aligned or have different dimensions.
Click Align
Adjust the Plan till they are Aligned
Navigation hints:
Align - click, hold and drag the Plan
To pan - hold the Space bar
Re-size - zoom out and click, hold and drag the blue boxes
Keep proportions - Hold SHIFT while re-sizing
Once aligned, click Align
💡 Use the Select Tool. to move Measurements and Annotations if required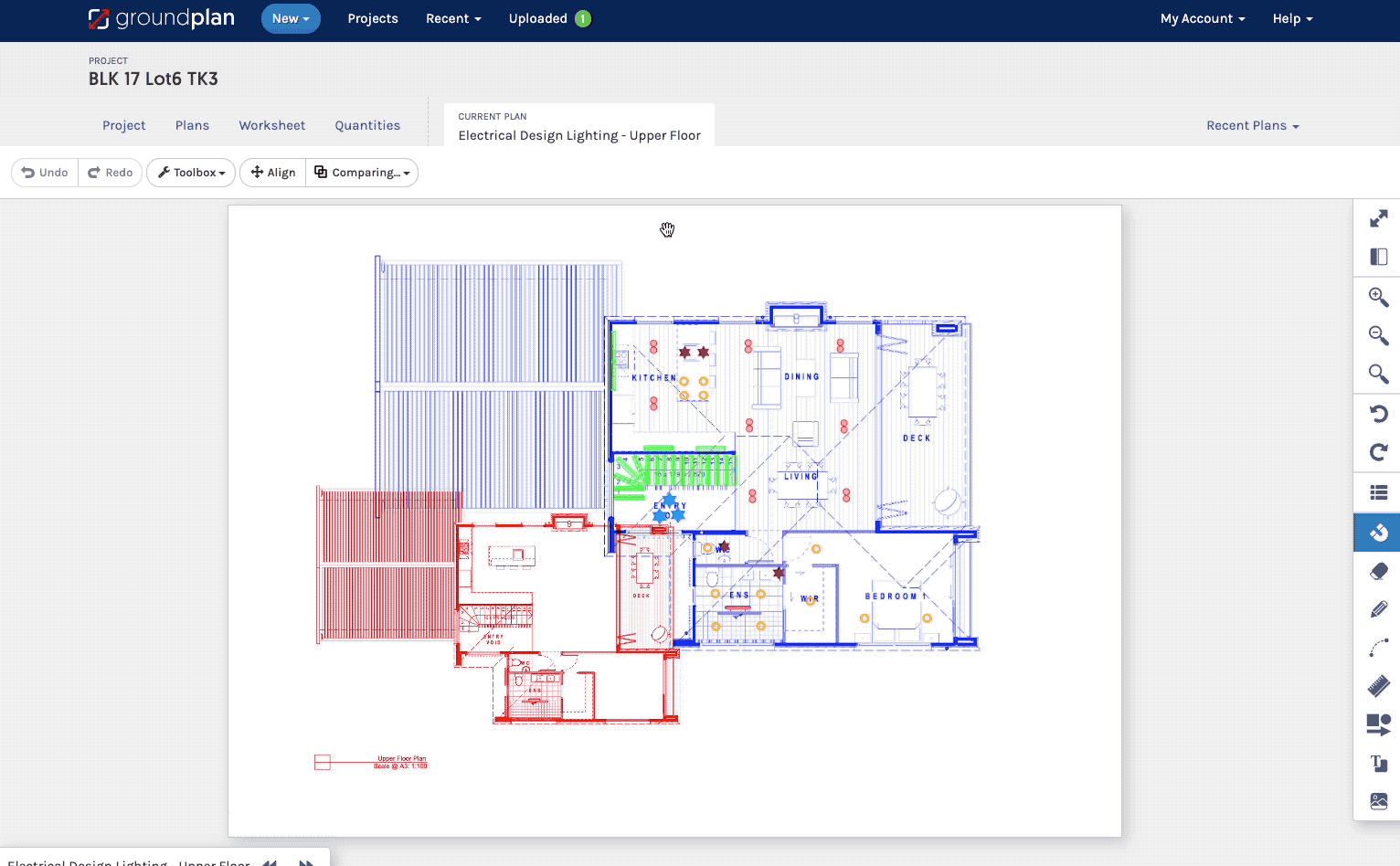 Erased areas
Using the Eraser Tool​ will keep the Erased sections hidden during Compare mode. Erased areas will also cover the same parts of the Plan you are comparing with. Remove the Erased sections to see the full Comparison.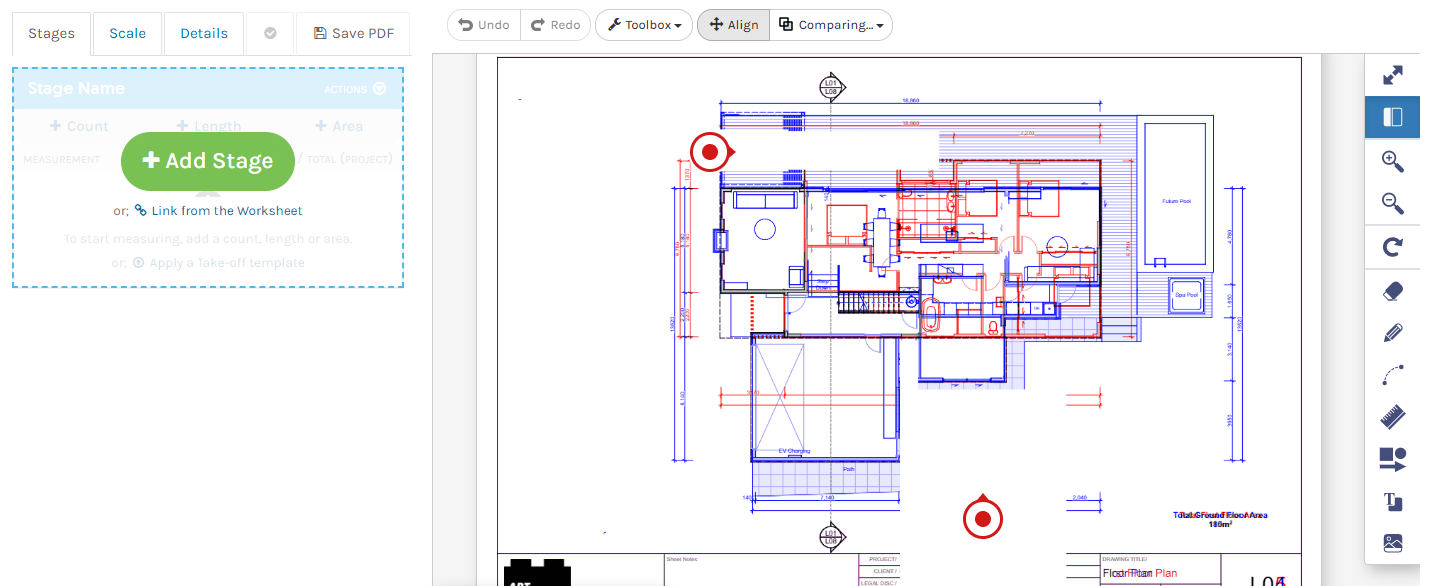 To restore the Plan to its original form:
Select the Eraser tool
Click Restore Original Plan
Click Done
📝 Repeat the "Erased" sections when using this option.
To restore Erased areas - click Undo before leaving the Plan.
Restore only specific Erased areas:
Select Eraser Tool
Hold CTRL / Command ⌘ and click the black area/s to restore
Click Done
Frequently Asked Questions
Can I Compare Plans with all Measurements and Annotations hidden?

Yes. To view Plans without Measurements, Annotations need to be moved off the Plan.

To do this:

Click Show & Hide, then click Hide all
Use Group Select to select all Annotations
Relocate off the Plan

Press ESC and complete the Compare function
Click Show All
Select the Annotations using Group Select and click, hold and drag them back to the correct position on the Plan.
---
Was this article helpful?
---
What's Next