Sharing a Project
Updated On 06 Nov 2020

3 Minutes To Read
---
Project Sharing allows you to collaborate with other members of your team or even members of other organisations.
Anyone shared into a project has full editing rights on the project - this includes editing counts, measurements, parts, labour, pricing, etc.
Share Projects within your account
Click the Project tab;
Click on Sharing on the left-side menu;
Under the Invite People list, you will see the users in your account. Click on their names, and they will be moved under the Who Has Access () list.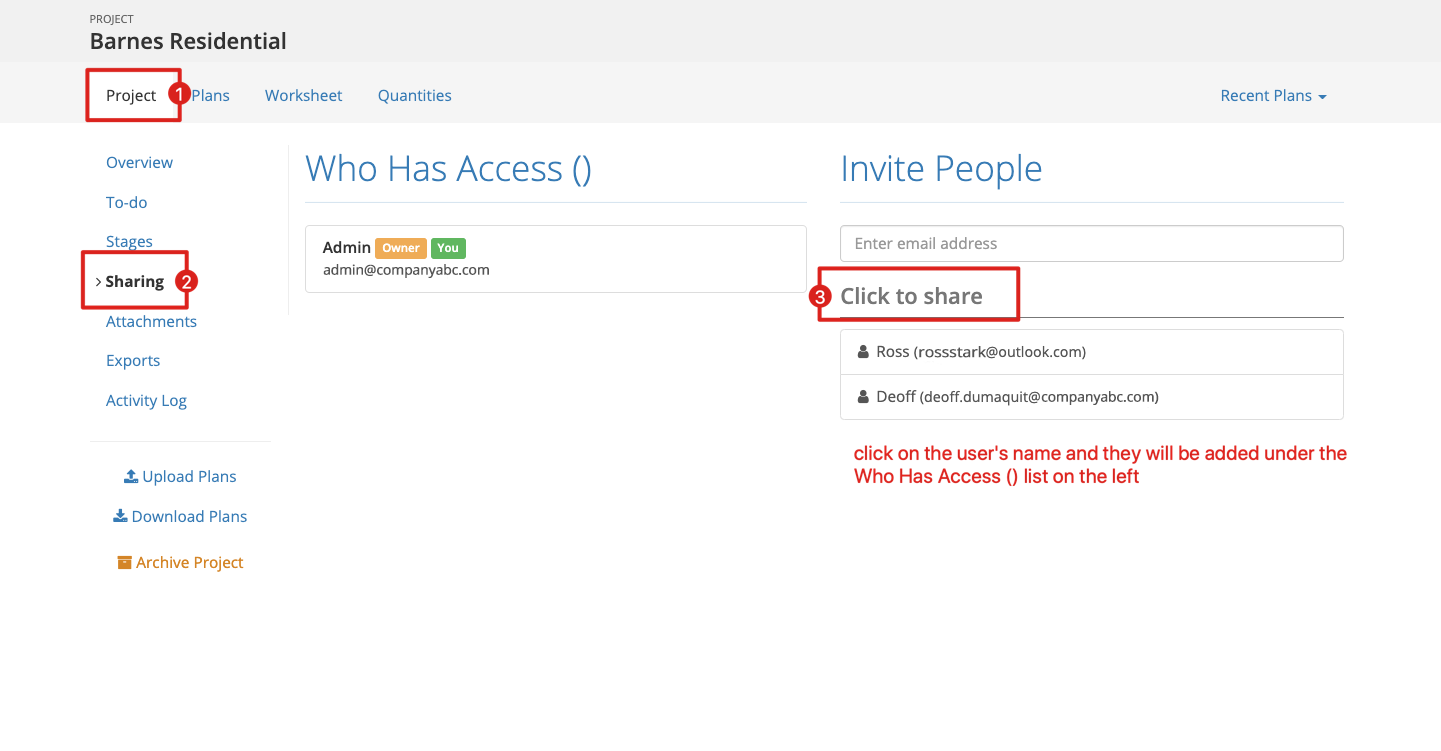 Invite someone from outside your organisation
Groundplan allows you to share your project with other people who also have a Groundplan account but are not associated with your organisation. This is especially useful if you work with subcontractors.
Please note:
This feature is not available to customers trialing Groundplan.
To invite Groundplan users from another organisation:
Type the person's exact email address on the textbox under the Invite People list;
If the person you want to invite is a registered and active user in another organization, his/her user account will be listed there.
Click on the name, and the project will be shared with him/her.
If you are Integrated with simPRO:
When sharing projects with another organisation also using simPRO, only Prebuilds and Catalogue items from your connected simPRO account can be pushed to a simPRO Quote.
Any catalogue items or prebuilds linked to another simPRO URL will come across as blank lines on the quote.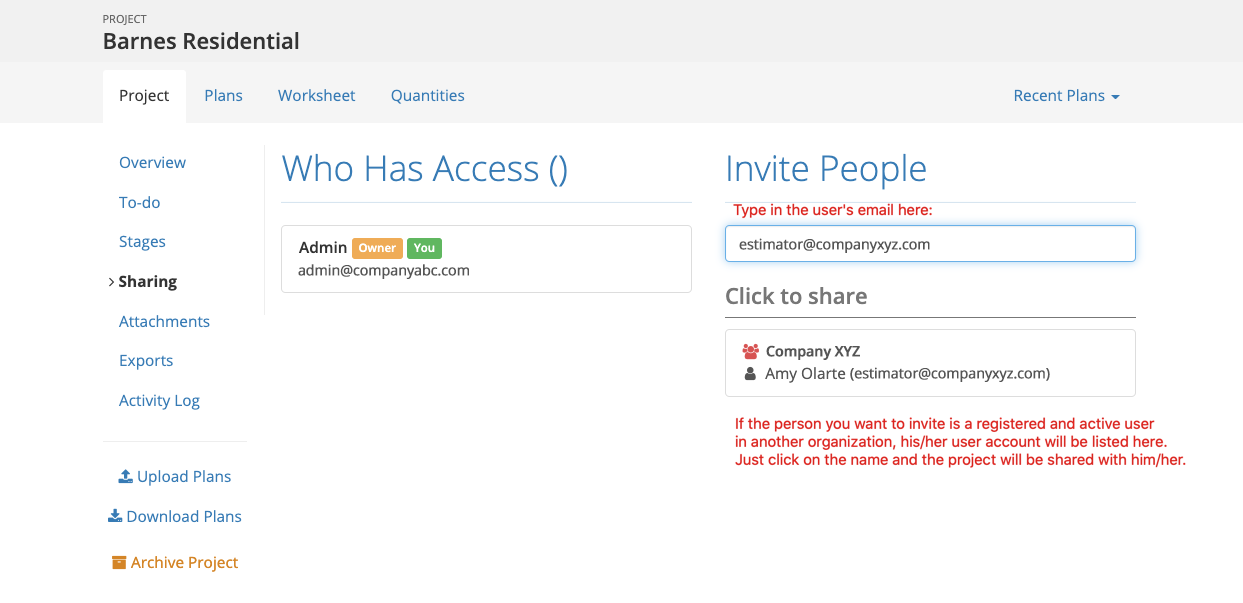 Done! Now your Project is shared and ready to collaborate in real time.

Viewing shared projects from a different organisation
To view projects shared by other users from a different organisation, go to the Projects list page, and click the Switch Account button (on the left side).
A list of organisations where projects are shared with you will appear. Select the organisation by clicking the checkbox before its name, and you will then see the project you can access.

Automatically share your new projects to all your users
To automatically share your new projects to all the users in your account or with users from other organisations, you will have to set up the Sharing section in your Project template and use that template when creating new projects.
📝 Note: The changes in the template will only be applicable in the future projects that you create.
Unfortunately, you will still have to manually share your existing projects. Only the new projects created with the project template you've set up will be shared with the users.
How to share your new project to all users
Click Project Templates on the home screen;
On the Project Templates page, click the Default Template;
Click Sharing on the Project Overview;
A list of users will appear under the Invite People section. Click on their names, and they will be added under the Who Has Access section;
The template changes will be automatically saved, and from now on, all new projects created will be shared with the users chosen.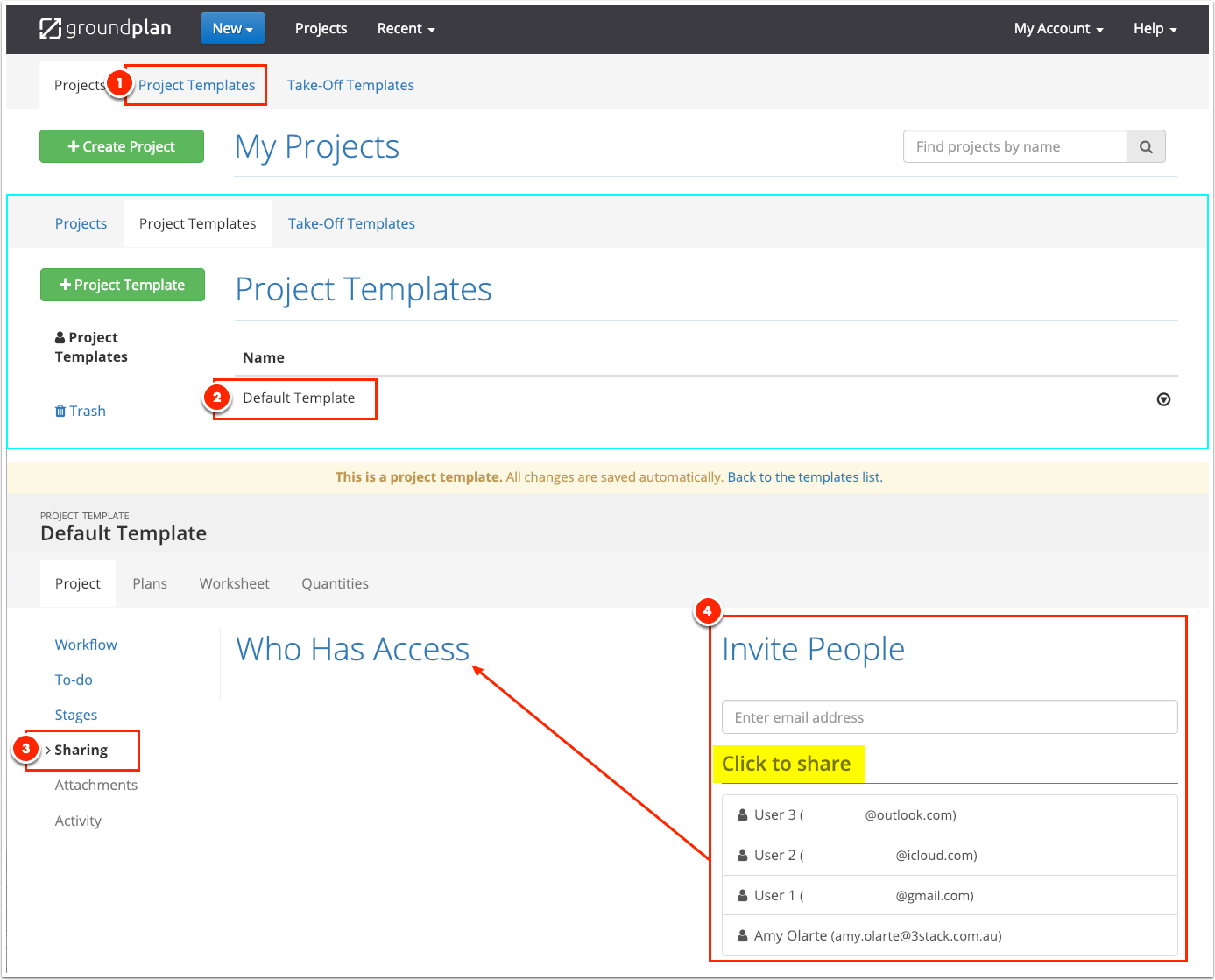 All existing ones, even if created using the same template, will not be affected by the changes and they will have to be shared manually.
Remove a user's access to your project
To remove them from the Who Has Access () list, click the little x button across their names, and they will be removed from the list.


FAQs
Q: I have added a new user; why are they unable to see my projects?
A: By default, projects in Groundplan can only be seen by the person who created the project.
For your new user to see these projects, you will need to follow the instructions in the Share Projects within your account section above.
Q: Is there a way to share new users into all projects at once, rather than one by one?"
A: Not currently.
Q: When sharing, can I give someone "View only" access to the project?
A: Not currently.
Q: I am the owner of the business. Can I automatically see all Projects created?
A: This is only possible if you are a registered user in your account, and your users are using a Project Template, which is set up to automatically share all projects with you.
However, if you go to the Help menu and send us a message, our support team will assist you with this.
We are continuously looking to improve our product and consider all feature requests when making product improvements.
Was This Article Helpful?
---