simPRO Integration FAQs
20 Oct 2022

5 Minutes to read
simPRO Integration FAQs
Updated on 20 Oct 2022

5 Minutes to read
---
Share feedback
Thanks for sharing your feedback!
Here are some frequently asked questions about the simPRO integration and the answers to these questions.
Q: Why doesn't the unit cost and total price display on the Worksheet & Quantities tab?
A: Only the quantities will appear in Groundplan, and the costs and other figures will then be available in simPRO once you push the quote. Unfortunately, simPRO has limitations with their API, especially with their tiered-pricing system. Thus we cannot pull the data and have it show in Groundplan.
Groundplan is more of an estimating software than a job management software, and it can get complicated to pull the price over from simPRO.
Q: What does this error message mean: "There was an error communicating with simPRO Enterprise"?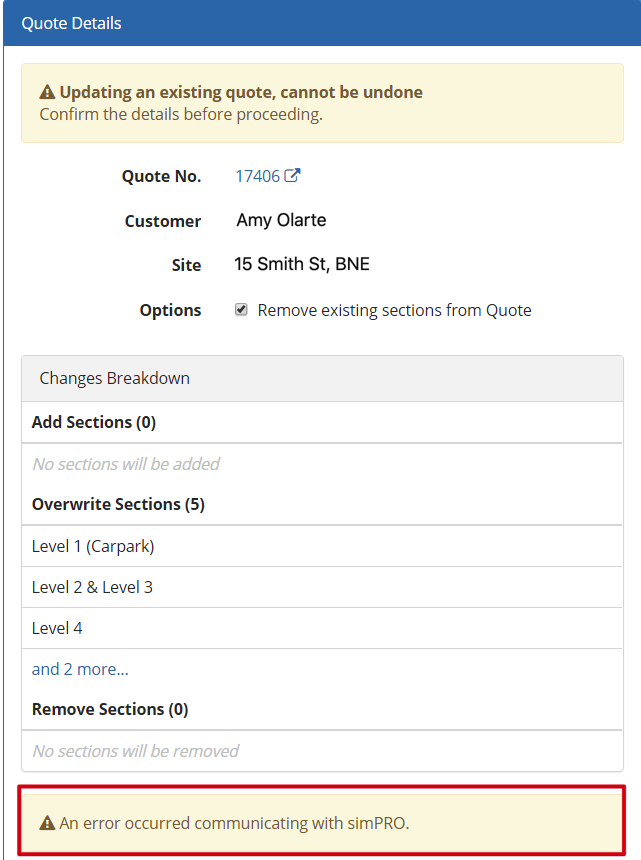 A1: If you are pushing to an existing Quote, please make sure that the quote is not open in simPRO and try again.
A2: Is your Groundplan and simPRO connected?
To check:
Click onto the simPRO Tab;
If this says Not connected, click to re-connect;
Try and send the quote again.
A3: There could be an issue with one of the simPRO Catalogue item or Prebuild in your quantities. If the catalogue item or prebuild is not found in simPRO (either it was deleted or archived), then simPRO will return an error to Groundplan. The downside is that we will not be able to tell which exact line item causes the error.
So to work around this, try to push the quote stage-by-stage to narrow down the issue. Once you find the stage with the problem, you can then check the Part No. in simPRO.
A4: simPRO's API may be down. You may check their Status page and please contact simPRO Support to report the issue.
Q: I am unable to see the "Integrations'' tab so I cannot connect Groundplan to simPRO?
A: Only users who are Administrators can see this tab and set this integration tab. Please have your administrator connect Groundplan with simPRO.
Q: Can I import take-off templates into Groundplan by adding the Catalogue item name or Prebuild name into the description?
A: No. Prebuilds and catalogue items are linked to their respective Prebuild ID, which works in the backend, and not by name. You can import your take-off template parts into Groundplan, but you need to manually link the catalogue items and prebuilds to each of the parts.
Q: Why can I not see Catalouge items or Prebuilds that I want to add to the measurements?
A1: simPRO is not connected.
If you have not set up your API key, you will need to re-connect Groundplan and simPRO every 7 days.
Please re-connect to simPRO and then try again.
A2: You need to resync to show catalogue item / prebuilds newly created.
The catalogue item / prebuild has been created after Groundplan and simPRO last did an auto-sync.
Go to the simPRO Enterprise button > Setup > Integrations > simPRO Enterprise > then click the blue resync/refresh button next to catalogues / prebuilds.

Once you have done this, please try to find it again.
A3: You have "Only show favourites" ticked and the Catalogue item / Prebuild you are searching for is not marked as a favourite in simPRO
Untick "Only show favourites"and search for the item again.
A4: You need to clear your cache.
Groundplan is a browser-based programme, so sometimes you will need to clear your cache to resolve an issue.
Here's a guide for how to clear cache for each popular browser:
Google Chrome, Mozilla Firefox, Safari (macOS), Edge (Microsoft).
A5: You have selected the wrong simPRO company on the project (simPRO Multi-company customers only).
Click on the Project tab and check you have selected the correct company. If required, change the company against the project and try again.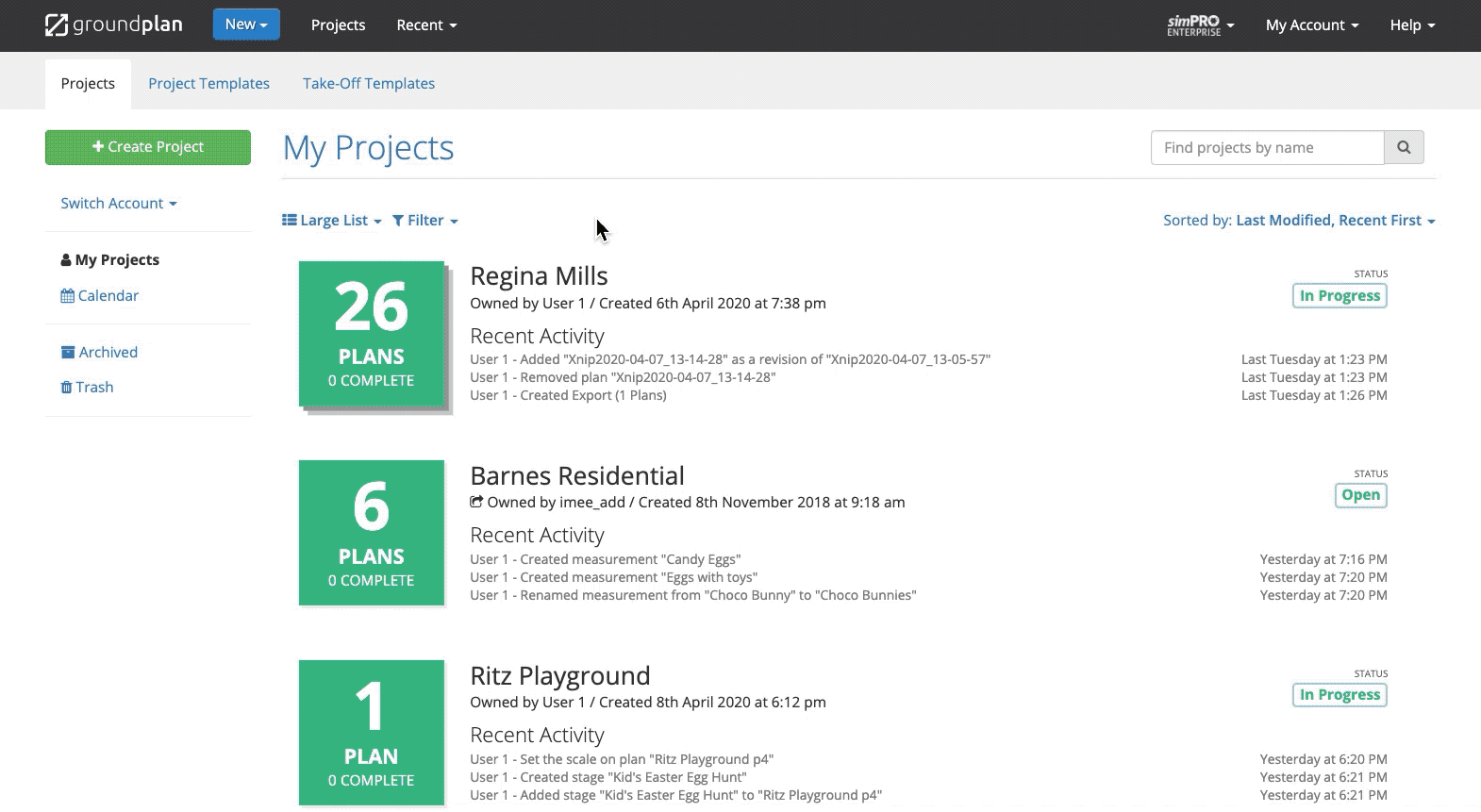 A6: The Groundplan user is not a simPRO user, and you have no API Key setup.
You will need to set up an API key for this user to create new counts and measurements linked to simPRO Prebuilds and catalogue items
A7: None of the above
Please call us or go to Help menu and send us a message, letting us know the Groundplan Project and Catalogue item / prebuild you are having issues finding.
Q: If I update my Prebuilds and catalogue items' costs in simPRO, do I need to redo my take-off templates in Groundplan?
A: No. These prices and item changes will be reflected when you send quotes to simPRO.
If you have deleted or archived catalogue items or prebuilds, and recreated them in simPRO, you then need to update your templates in Groundplan with the new catalogue items and/or Prebuilds.
Q: I have take-offs in my simPRO system, can I bring these into Groundplan the same as Prebuilds and catalogue items?
A: Not currently, this is a restriction within simPRO's API.
You are able to recreate these as Take off templates in Groundplan, but they have to be linked manually.
Q: Can I link Groundplan to more than one simPRO build?
A: No. You can only have Groundplan linked to one simPRO URL. If you have more than one simPRO URL that you need to send quotes to, you will need multiple Groundplan set up.
However, Groundplan can connect to multiple companies with a single simPRO URL if you have a multi-company simPRO build.
Q: Can I switch between simPRO URLs on my Groundplan?
A: No. All data pulled through from simPRO to Groundplan is based on IDs. So by disconnecting one simPRO URL, and reconnecting to a different one, you will have data problems including measurements not sending across to simPRO.
Q: Can I have more than one Groundplan linked to the same simPRO URL?
A: Yes, each Groundplan will need to be connected via the integrations tab.
Q: Why can't I see the description I added to the Project Overview tab in my simPRO Quote?
A: The description you added in the Project Overview Tab is for Groundplan only. Due to API limitations, we cannot push such details into your simPRO quote.
Q: Can you also push the take-off as an attachment to the simPRO Quote?
A: No, the take-offs (marked-up file) must be downloaded so you can upload it as an attachment in Groundplan.
Q: Can I share Projects outside of my organsiation?
A: Yes, however, when sharing Projects with another organisation also using simPRO, only Prebuilds and Catalogue items from your connected simPRO account can be pushed correctly to your simPRO Quote
simPRO items are linked to Groundplan using background ID's. Any catalogue items or prebuilds linked from a different simPRO URL will not create the correct/expected items in your simPRO Quote.
---
Was this article helpful?
---
What's Next