Stages
Updated On 21 Sep 2020

2 Minutes To Read
---
A stage is a collection of counts and measurements e.g. lighting, sanitary drainage, demolition, etc.
By using stages, you can organise your measurements in the worksheet and quantities tabs.
New stages vs. Linking from Worksheet
Add a new stage: This will add a new stage to your project/worksheet which can be used on multiple plans.


Link from the Worksheet: This will allow you to select an existing stage and keep counting the same measurements that were already completed on other plans.
Note:
The Link from the Worksheet link will only appear if you already have existing stages, either from the other plans or from pre-listed stages in your project.

💡Tip:
You can "link" or re-use the same stage on multiple plans, to get one project total for your measurements across all plans.
If you click Add stage, this will add a new stage to your project/worksheet which can be used on multiple plans.
However, if you already have a stage in your project and you want to re-use it on a new plan, click Link from the Worksheet instead. This will allow you to keep counting the same measurements/parts that were already completed on other plans.
Add stage
Name - e.g.: "Electrical", "Plumbing", "Security". This can also be used for the subset of work, e.g.: "Lighting", "Underground", "Switchboard".
Description - Short description of stage (Optional)
Multiply Quantities - This allows you to multiply the quantities of your measurements in this stage by a predefined number. It's specially useful when doing unit takeoffs, where most of the floors are the same.
Apply Template - This is used for applying a takeoff template, which is a predefined list of items with symbols you regularly use to measure, as well as copying the template from a stage already added to your project.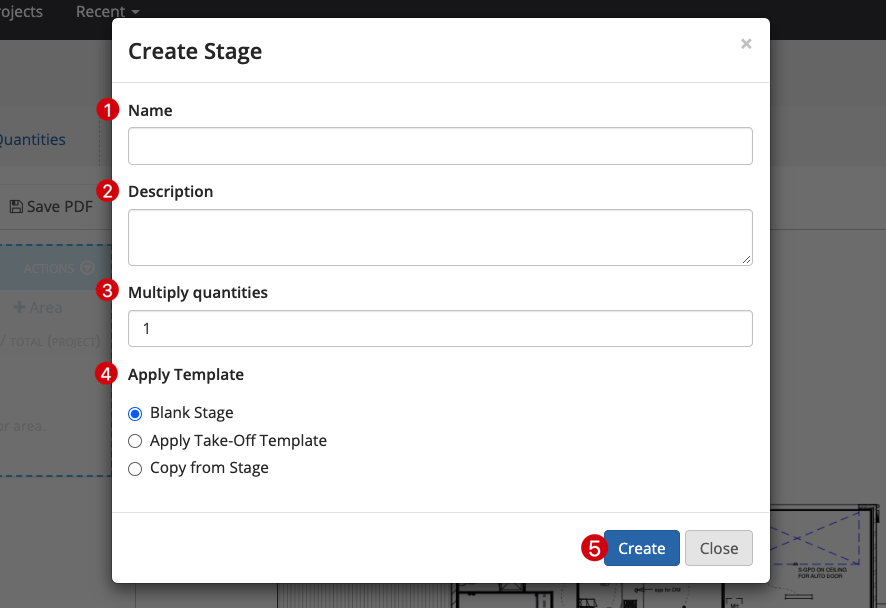 Click the Create button once you're ready to add your new stage.
Link from worksheet
This option will show you all of the stages already on your worksheet.
Select the stages you wish to use on this plan; or
Click the Select All button to add all the listed stages;
Finally, click the Add button;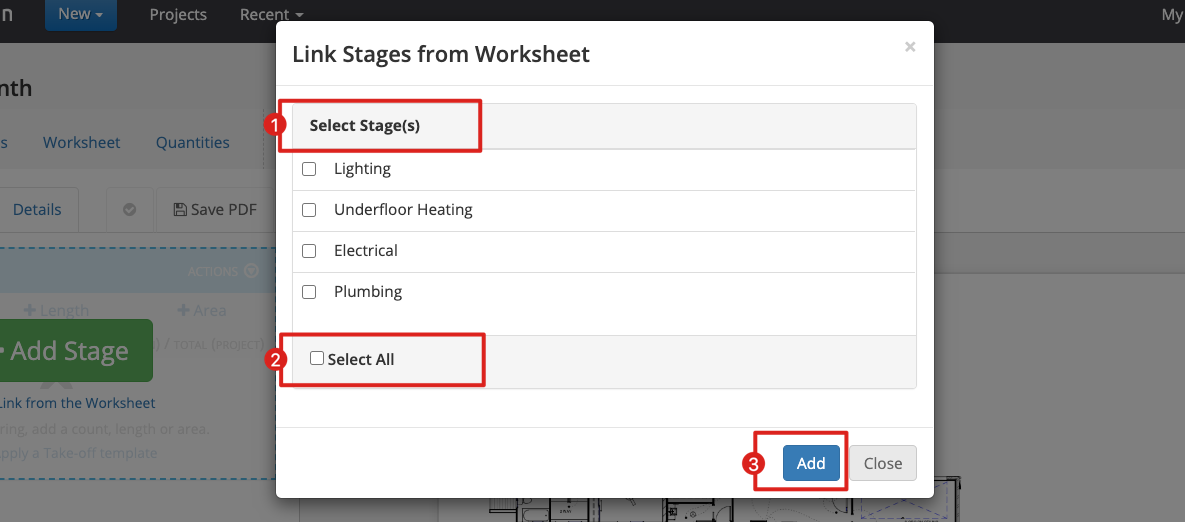 Once the linked stages have been added to a plan, the stage names will appear on the left-hand side.
If there are any measurements on the linked stage, you can start measuring straight away by clicking the measurement name.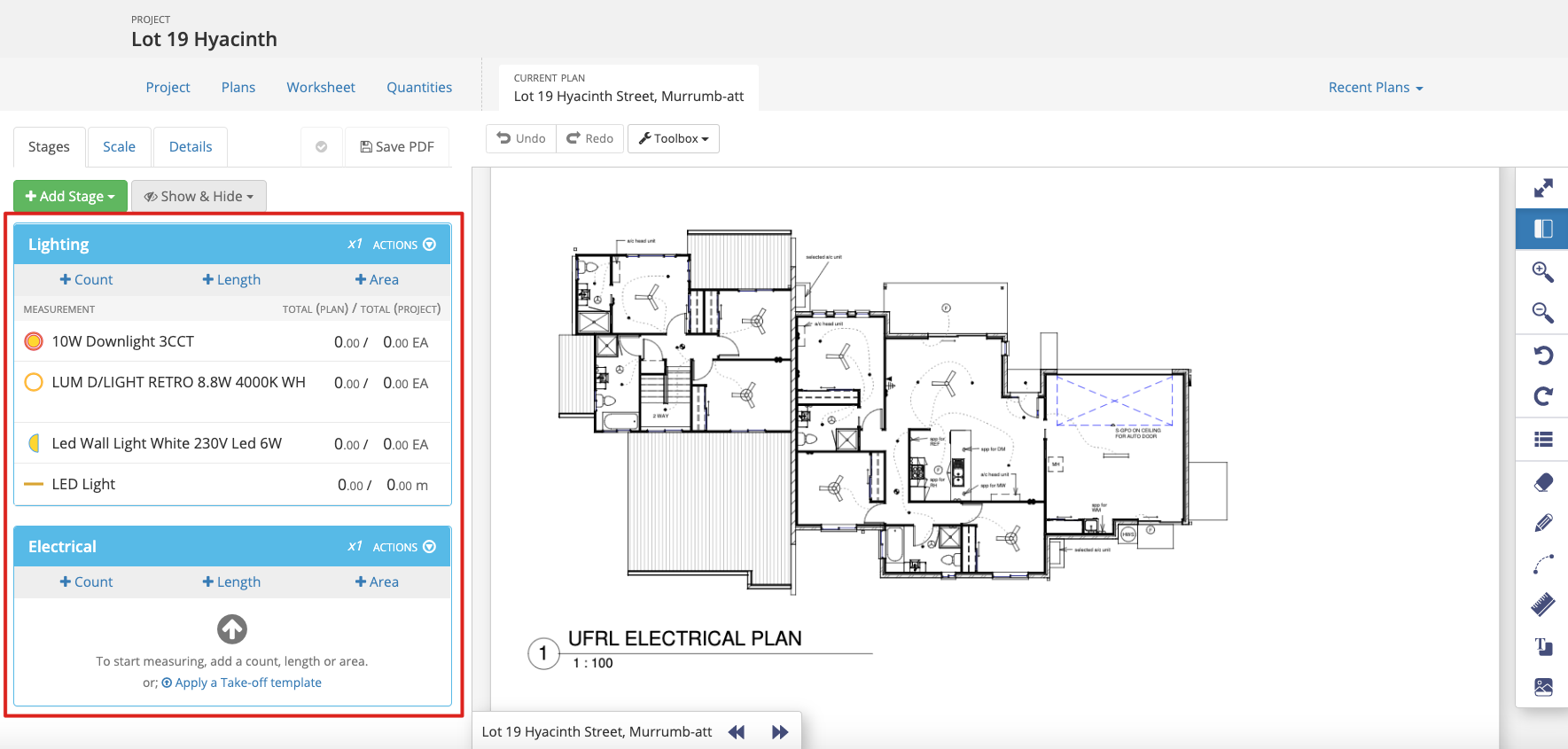 Rearrange Stages
The order of your stages can only be edited in the Project tab.
Click on the Project tab;
Click on Stages on the left side menu;
Drag and drop the stages into the new order;
Back in the plan, the legend will now reflect the new order;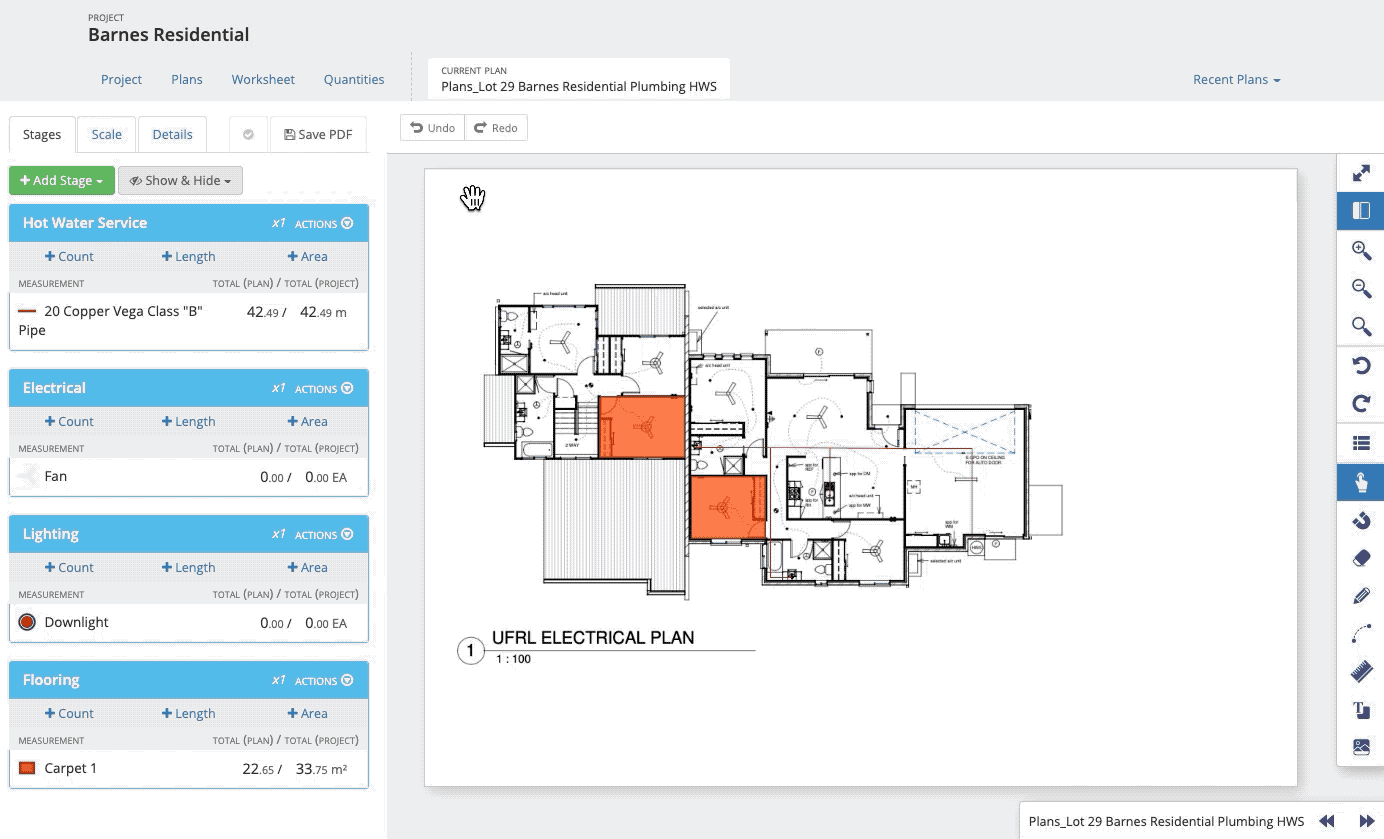 This change will be applied to all your plans and worksheet.
FAQs
Can you use a stage you added from another plan to a new plan?
A: Yes, you would do this by selecting Link from Worksheet when adding a stage onto a new plan.
If you have already created a second stage, unfortunately, you are unable to merge stages, or move counts from one stage to another
Was This Article Helpful?
---