Uploading your symbols
11 May 2020

1 Minute to read
Uploading your symbols
Updated on 11 May 2020

1 Minute to read
---
Share feedback
Thanks for sharing your feedback!
Learn how to upload your own symbols.
Upload your own symbols:
Go to My Account > Setup at the top-right menu;
Click My Symbols link on the menu on the right;
Click the Add a Category button if you want to add a new symbol group ;
Then click the Upload Symbols link to choose your symbol image files
Alternatively, drag and drop the symbols from your source folder to the Groundplan category.

or

Image formats and file size
Supported formats are jpg, gif, png or bmp with a maximum file size of 8Kb.
You can upload symbols rendered in black and change their colour once you're ready to use them on your plans.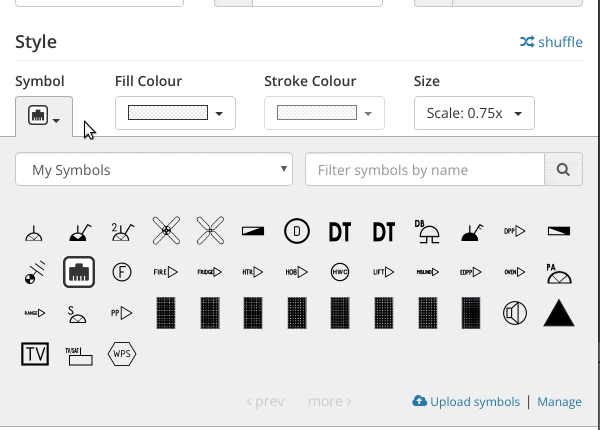 📝 Note: You can only change the Fill Colour of a custom symbol and not the Stroke Colour.
Symbol creation requests
If you need specific symbols made to suit your business, submit samples to us so we can check our files for matching symbols. If you need specific ones, we have access to a graphic designer who can take care of this for you at a very reasonable price. Email us at support@groundplan.com to get a quote.
---
Was this article helpful?
---
What's Next