Users
19 Sep 2023

3 Minutes to read
Users
Updated on 19 Sep 2023

3 Minutes to read
---
Share feedback
Thanks for sharing your feedback!
This article explains User Types and how to set up New Users and Deactivate Users.
Users vs. Licenses
Groundplan allows an unlimited amount of Administrator or Standard Users in an Account. Users have individual email addresses and passwords to log in and use a Groundplan Account. Licences relate to the number of Users able to login to Groundplan simultaneously.
Creating separate User logins for those using a Grounplan Account allows an Administrator to monitor who made changes within Projects, control access and editing rights for Standard Users including removing the ability to access Billing within Groundplan.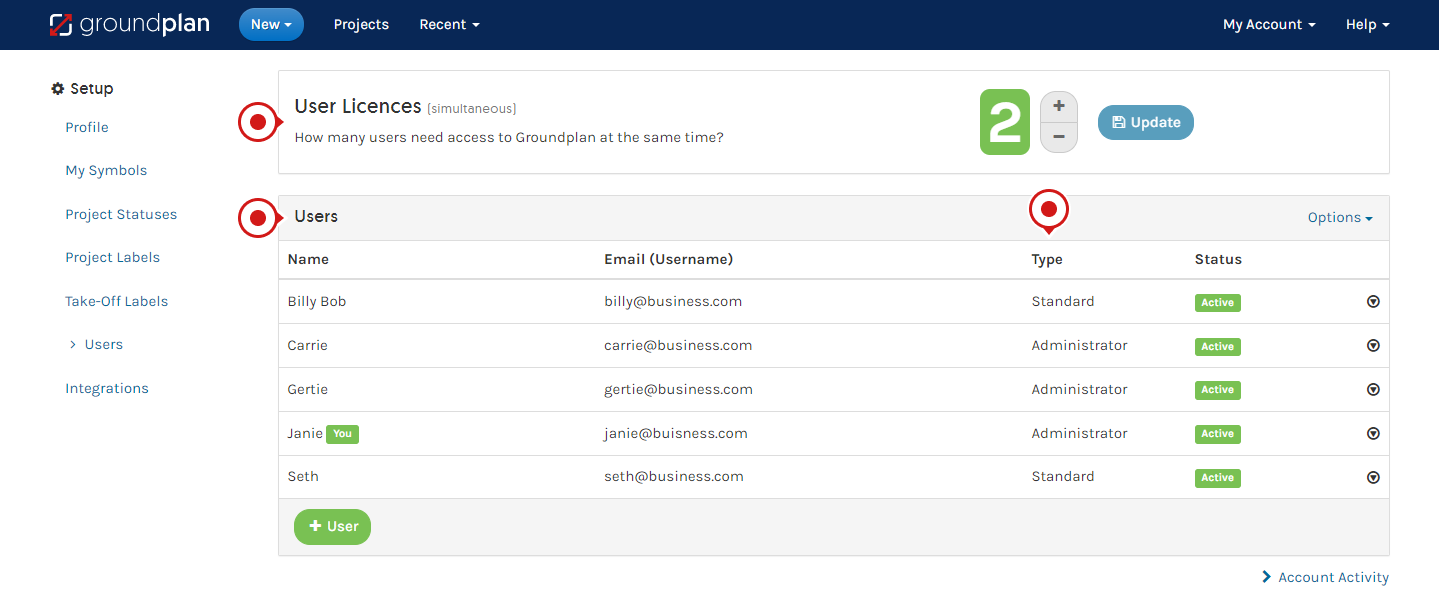 User Types
Users in Groundplan can be either an Administrator or a Standard User. Each User needs to have separate User Accounts (email account and password) if specific access is to be restricted.
Sharing User Accounts also gives the same access rights
E.g. An administrator letting a colleague use their log in details to Groundplan gives full access to the whole system.
Setting up New Users
Only Administrators can invite and set up other Users in the Groundplan Account.
Click My Account then click Setup
Click Users
Click +User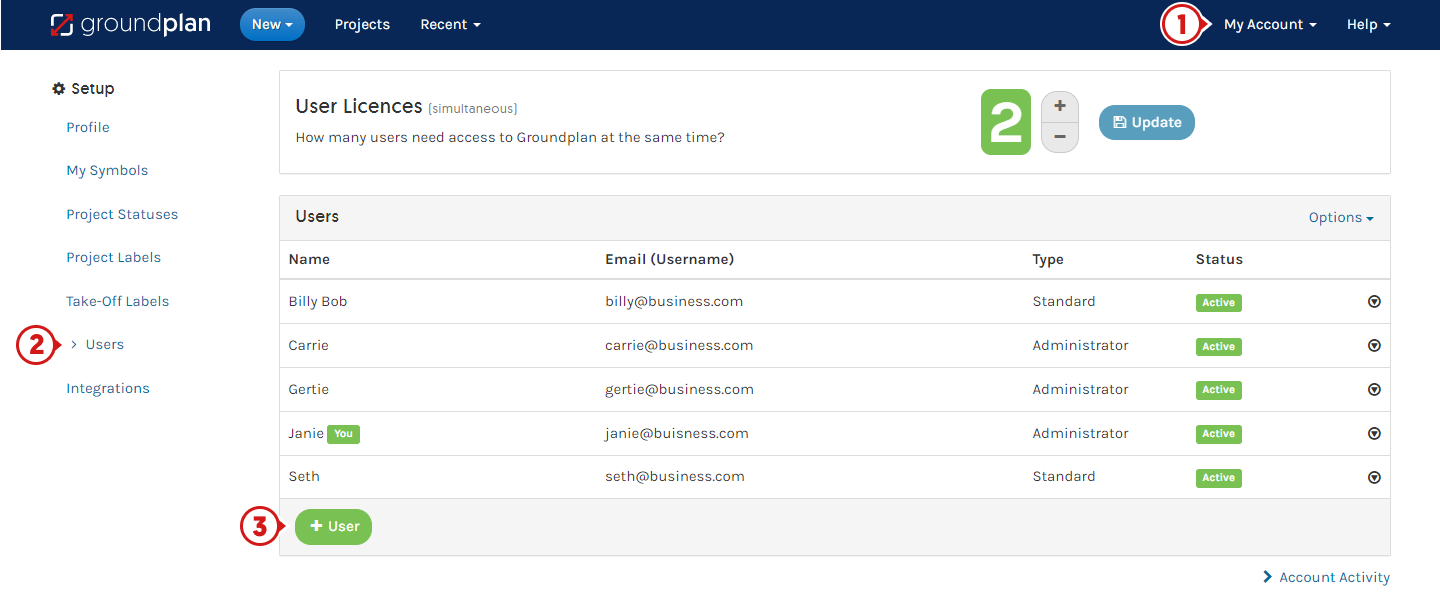 Enter the new User's name
Enter a valid email address
The same email address cannot be used on multiple Accounts
If required click Administrator box, leaving unchecked will create a Standard User.
Click Submit

A registration link will be emailed to the New User. Once the User clicks the registration link and creates a password, they will become "Active" and can log in and use the Groundplan Account, provided there is a free Licence.

New Users will have a Blank Project screen upon entering Groundplan. Use Groundplan's Bulk Sharing feature to share any or all Existing Projects the New User needs to view. Consider setting up a Project Template to Share future Projects Automatically.
Cancel or Re-send the Invitation
Cancel or Re-send the invitation if needed by clicking the User Actions.
Deactivating Users
When Users leave an Organisation, it is common to Deactivate their email and password within the Groundplan Account.
Click User Action and click Deactivate
The Administrator must select a User to Transfer ownership of all Projects and Templates assigned
Click Deactivate to confirm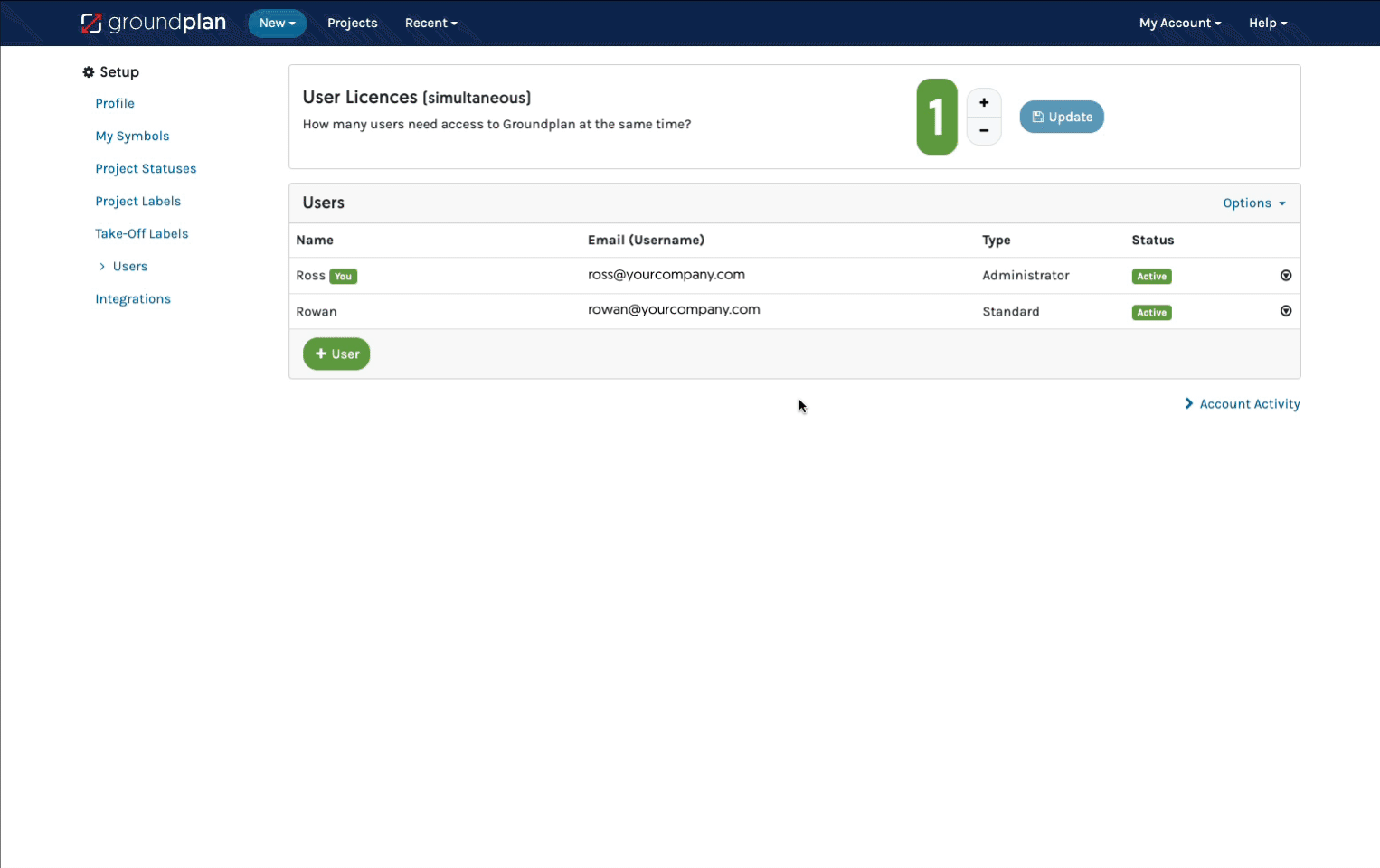 Account Activity
The Account Activity page lists the notable activities in the Groundplan Account.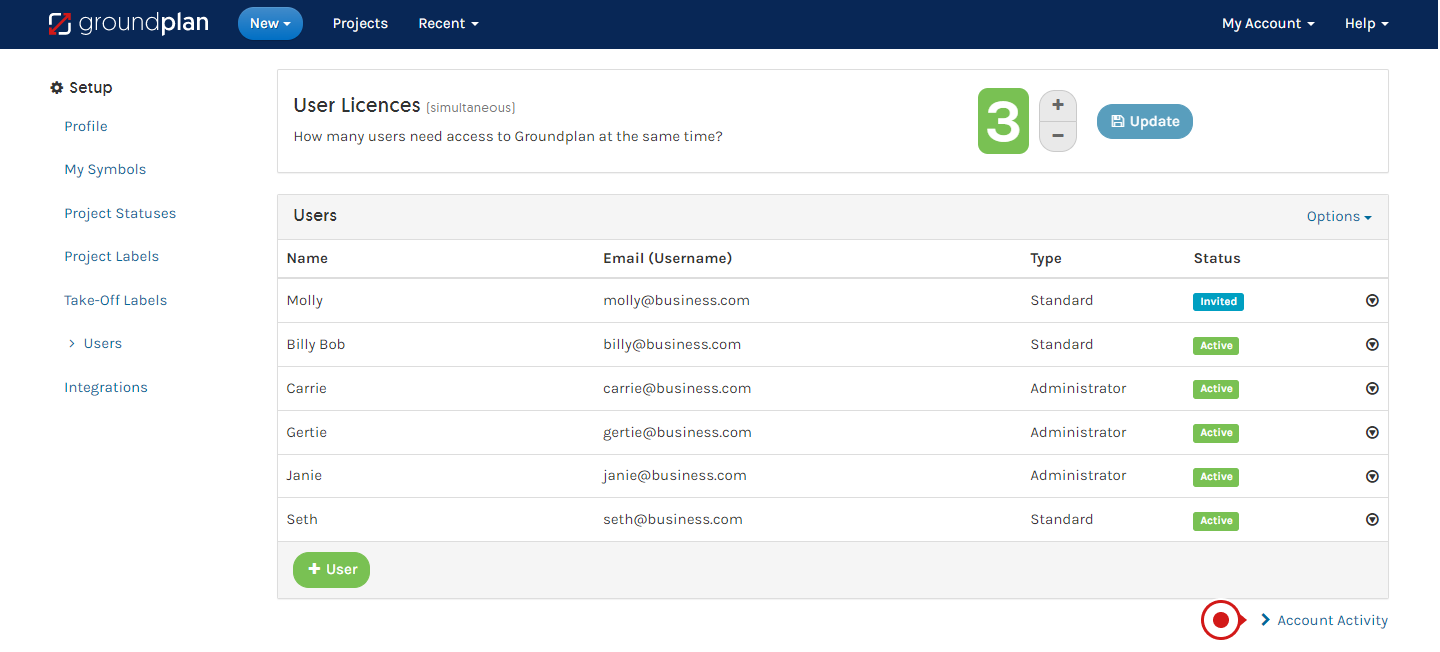 Activities listed can include:
Inviting New Users
Activating or Registering the New User/s
Transfering Projects and Templates from Deactivated Users to another User

Frequently Asked Questions
Can I have three Users but only one Licence?

Yes.

You can have as many Users as you like. Having one Licence means only one User can use Groundplan at a time. The other two Users need to wait for the person using the Licence to log out or Take a Licence from an offline User by clicking the button in the image below.
A New User has been added but cannot find their email. Why would this be?

Things to check:
1. Have the User check their email junk/spam folder
2. Check the email address is correct
3. Cancel, then re-send the invite again
4. Go to Help > Send us a Message for assistance
When setting up a new user Password, I am not getting the option to put in the actual Password, it keeps just going straight into Groundplan. How can I resolve this?

You must Log Out of Groundplan completely first.

Click My Account > Log Out


Once logged out, head back to the Registration Link in your email and click that to set up a Password for the new User.
---
Was this article helpful?
---
What's Next