Creating Take-off Templates when Integrated with Tradietech
31 Aug 2020

2 Minutes to read
Creating Take-off Templates when Integrated with Tradietech
Updated on 31 Aug 2020

2 Minutes to read
---
Share feedback
Thanks for sharing your feedback!
Before reading this article, please make sure you are familiar with what Take-Off Templates are and how to create them in Groundplan.
Creating Take-off Templates linked to Tradietech products
There are three ways to create Take-off templates, but all of these options require you to manually link your Tradietech products with the measurements you've listed under each take-off templates.
If you added associated parts as one-off items instead of Tradietech-linked products, Groundplan will send their quantities to Tradietech as one-off items.
1. Create a new Take-Off Template from scratch
You can find the steps of manually setting up a Take-Off template and building up the measurements in it on this guide.
2. Import a Take-Off template
Importing a file into your take-off template will save you from manually entering the list of parts that you need in your template. However, Groundplan creates a one-off item in each measurement as a default part. These imported measurement parts will not be linked to Tradietech products even if you have listed the part numbers of the products in your CSV file.
3. Copying an existing Stage into a Take-Off Template
Among these three options, this will be the best time-saver IF the stage that you will copy already has the measurements linked to products in Tradietech after you've set it up for a Project.
However, if the items' linking was not yet done, you can still copy the stage as a new take-off template and manually link the measurements to your products in Traditech.
Linking your measurements to Tradietech products
Click on the Take-off Templates tab;
Click on the Template name or click the Menu button and select the Edit option;
Click onto the Measurement name or click the Menu button and choose the Parts option;
Click the Menu button across the Part Name, then select the Delete option, then click the Delete button to confirm the action;
Add a new part by clicking the green +Part button;
Click to choose Tradietech Products;
Enter at least three characters of the item name;
Click the correct item from the list shown;
Click the Save button;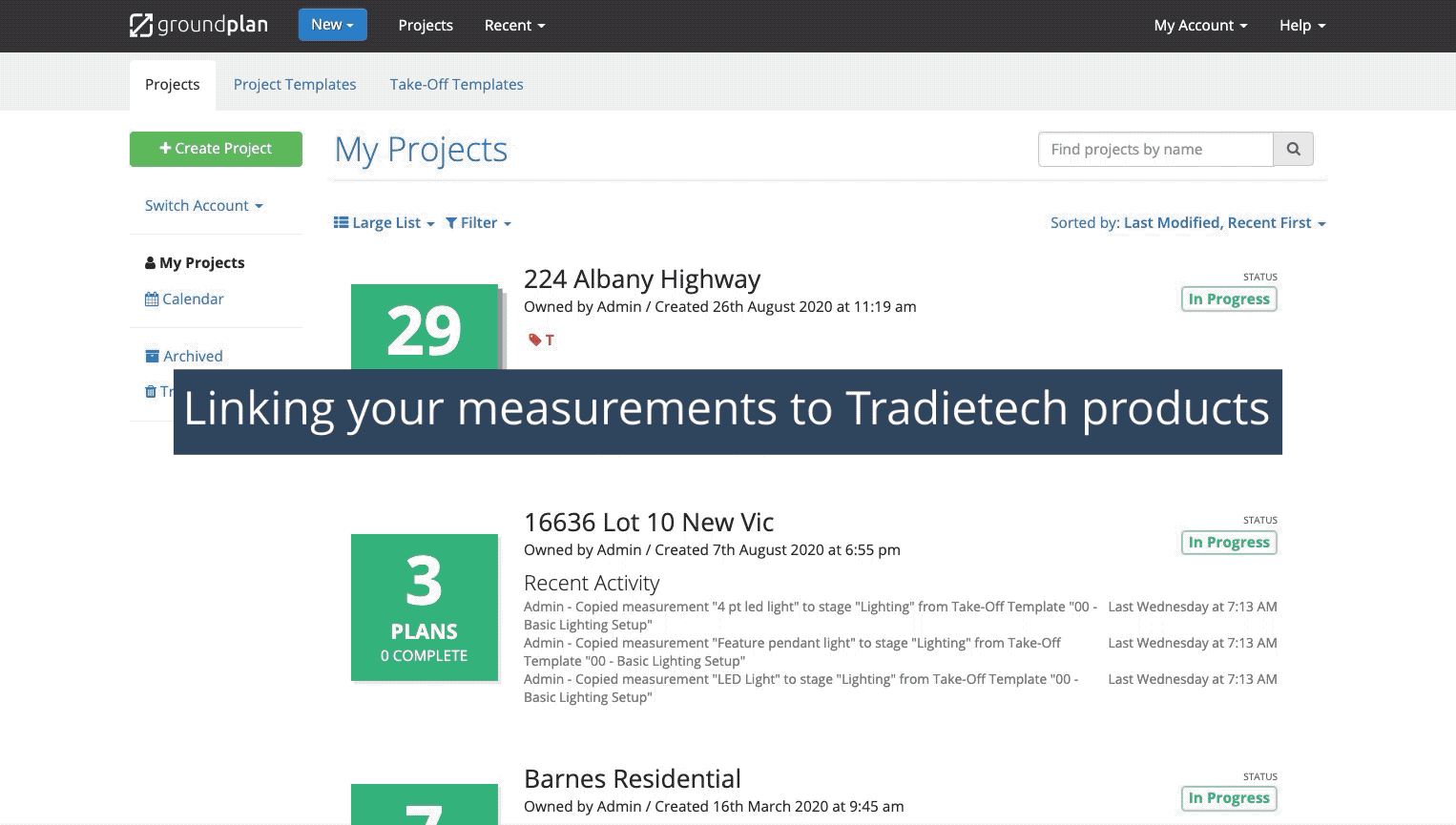 Products associated with multiple measurements within the same stage will group as one line item(s) with a total from all measurements when being pushed to Tradietech.
For Setup and Workflow Assistance
Book a FREE training session with one of our trainers to go through the best solutions based on your Tradietech workflow.
FAQs
Q: If I edit or rename the measurement in Groundplan, will it automatically update my product description in Tradietech?
A: Renaming measurements will not send the updated name to Tradietech -- these names will only appear in Groundplan on the stage, take-off template, on the legend and in the Worksheet tab, etc.
Q: Will Tradietech list the "additional parts" that I will add to the measurement as a "product"?
A: If you create additional parts & labour into measurements, these additional items are sent through to Tradietech as individual line items.
---
Was this article helpful?
---
What's Next